6 Things To Do, With The Family, As Tulsa Begins To Reopen
Broken Arrow, OK – 5/19/2020 – Last Friday, May 15, Oklahoma went into "Phase II" of the state's three-phase "Open Up & Recover Safely Plan." The day before, Tulsa's Mayor, G.T. Bynum, spoke on a live, Facebook video about the city of Tulsa's current situation, in regards to the virus. In the video, Mayor Bynum discusses the downward trajectory of COVID-19, in Tulsa. Bynam states, "By and large, what the data is showing us is that our trends are headed down." [1]
While Ferguson Superstore is still taking extra measures to keep the health and well-being of our customers, and our employees, as safe as possible (read our COVID-19 protection plan here), we are very happy to see Tulsa and our great state of Oklahoma, begin to open up. We're glad to see the trajectory of COVID-19 stay on the downward slope, and we're very thankful for our customers that have and continue to support us throughout this global pandemic.
While the stay-at-home orders have been a difficult time for all Oklahomans, many Oklahoma families with young children have been presented with an added challenge – keeping rambunctious kids safe and entertained. Many of our Ferguson team-members have young children at home. As we talk with them, and with our customers with young children, one thing is clear, a lot of families are ready to get out of the house!
As we look forward to getting out of the house, and getting back to exploring Oklahoma, we've put together a list of family-fun destinations, in-and-around Tulsa, that are sure to please any family with stir-crazy kids.
An important note to remember.
"While Phase II permits more people to gather, it's important for everyone to bear-in-mind the responsibility to limit spread. This virus is still here. We have to continue following guidelines to keep us safe, our families safe, and our neighborhoods and communities safe." – Dr. Dart, executive director of the Tulsa City/County Health Department (THD) [1]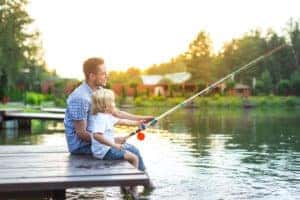 6 Things To Do, With The Family, As Tulsa Begins to Reopen
1. The Tulsa Zoo
The Tulsa Zoo celebrates more than 90 years of providing family friendly recreation, natural sciences education and conservation of wildlife. According to their website, "The Tulsa Zoo will reopen to the public on June 1st, with some changes."
Learn more here: https://tulsazoo.org/health/
2. Tulsa Gathering Place
Gathering Place is Tulsa's award-winning, nationally recognized, world class riverfront park. According to their website, "Gathering Place will begin the first phase of reopening Monday, May 25."
Learn more here: https://www.gatheringplace.org/covid19
3. Pick Strawberries
3. Pick fresh strawberries (and other fresh produce) at local farms. One such farm is Joe's Farm, in Bixby. You can schedule your families picking session on their website here: https://joesfarmok.com/products/you-pick-strawberries-by-the-basket
4. Yogi Bear's Jellystone Park Camp-Resort at Keystone Lake
Jellystone Park, in Mannford, is open for the season. According to their website, "Our Swimming Pools and Water Slides will open for the season for the Memorial Day weekend. Our overnight camping Rates will remain at half price until June 11th. Our Aqua Park (Wibit) opens for the weekend of June 12th."
Learn more here: https://keystonelakejp.com/coronavirus-update/
5. Go see a movie
Movie theaters, in-and-around Tulsa, are beginning to open; albeit, with some restrictions. Two of those movie theaters include Admiral Twin Drive-In Theater and Cinergy Tulsa.
The Admiral Twin Drive-In Theater reopened on May 15th. You can view their movie showtimes and schedule here: https://www.admiraltwindrivein.com/
Located in the Village at Woodland Hills Shopping Center, Cinergy Tulsa is now open. Learn more about Cinergy Tulsa's reopening here: https://cinergy.com/cinergy-tulsa-reopens-the-week-of-may-11th/
6. Go fishing
Oklahoma has hundreds of beautiful, scenic lakes to explore and to take the family on a nice fishing excursion. Oklahoma Department of Wildlife Conservation has great information about fishing in Oklahoma, on their website at: https://www.wildlifedepartment.com/fishing