Ferguson Superstore Earns 2018 ESQY Award for "Car Dealership & Auto Repair, in the Tulsa Metro"
Ferguson Superstore is proud to have won the 2018 ESQY Award for "Car Dealership & Auto Repair, in the Tulsa Metro."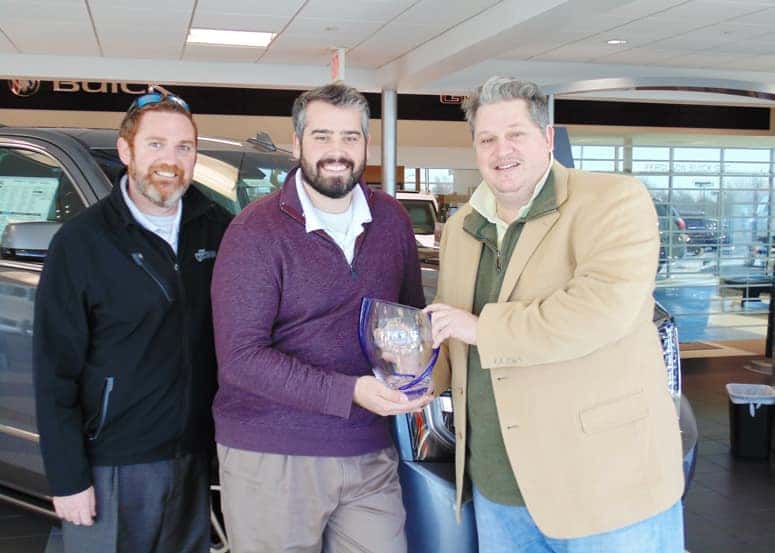 From left to right: Andrew Tipton (Ferguson Superstore), Taylor Ferguson (Ferguson Superstore), and Bill Shapard (ShapardResearch)
The ESQY Award, short for Excellence in Service Quality Award, was conducted by ShapardResearch. ShapardResearch is Oklahoma's leading market research firm. The ESQY Award is designed to recognize Oklahoma based businesses for going above and beyond for their customers.
"Ferguson Superstore scored very high in all attributes, said Bill Shapard, ShapardResearch. "They scored highest in their promptness, how knowledgeable their employees are and their quality of service. 100% of their customers also reported being thanked for their business."
The results, of the ESQY Awards, are based on several thousand responses collected from randomly selected Oklahoma consumers who have recently visited a given business, in a select industry, and had an opportunity to form an opinion of their visit.
"Ferguson Superstore is extremely proud to accept the 2018 ESQY Award," said Taylor Ferguson, Sales Manager, Ferguson Superstore. "It is an honor to receive this recognition from ShapardResearch. It's a testament to our team's hard work in improving customer service and building better customer relationships."
At Ferguson Superstore our focus is always to provide the best car buying and best automotive service experience we can. Ferguson Superstore is the unifying name for our individual brands: Ferguson Kia, Ferguson Subaru, and Ferguson Buick GMC. Each of our stores is committed to providing excellent customer service at every step of the way.
Schedule your next service appointment, or shop for your next new vehicle, at www.FergusonDeal.com.
For more information about the 2018 ESQY Awards, please visit esqy.org